CandyTX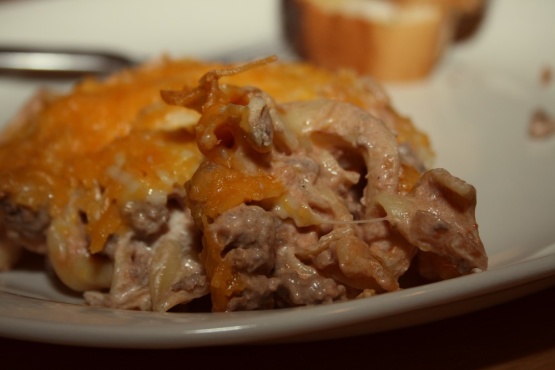 Super easy as far as lasagnas go. Tom doesn't really like lasagna, but he begs for this one to be made.

My mother fixed this for some friends who had family in town for a funeral. They absolutely loved it and many people asked for the recipe. One thing to point out here, which is probably true for most lasagna recipes, is to let it set (and cool) for 10-15 minutes after removing from the oven. Mom found this out the second time she made it and served directly after baking it. It was a little runny this way.
Boil and drain noodles until tender, but not mushy, you want them flexible, but not totally limp, cook them, don't over cook them.
Add in cream cheese and sour cream, enough to coat the noodles.
Brown and drain hamburger and onion. Mix in the rest of the ingredients with the noodle mixture, being careful not to tear them up.
Top with lots of shredded cheddar and mozzarella.
Bake at 350~ for 20 minutes.