Easy King Ranch Casserole
Bobtail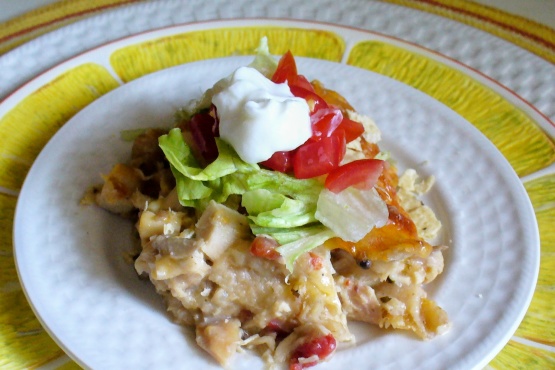 There are so many variations of King Ranch Casserole. Mine has no green peppers, onions, or olives. As simple as this is, it's one of DH's most requested meals.

I prepared this tonight for my nephew and brother. We all enjoyed it, but thought it was a little bit bland and spooned some salsa over it, which helped. Next time I may use medium Rotel tomatoes to add more flavor and some heat. I did misread the recipe. I mixed the chicken and soup mixture together which was incorrect. I don't think it made any difference in the taste. I did layer chips, chicken/soup mixture and then cheese and loved how easy this was. My nephew did take all the leftover casserole home ;) Prepared for A Day in Bargain Basement game. Thanks mailbelle!
salt and pepper

2

(10 3/4 ounce) cans cream of mushroom soup

1

(15 ounce) can diced tomatoes with lime and cilantro (Rotel)

2

cups grated cheese (I use the Fiesta Blend sold at Wal-Mart, a blend of Monterey Jack, Cheddar, Queso Quesadilla and Asa)

12

ounces tortilla chips, crushed
chopped tomato (optional)
shredded lettuce (optional)
sour cream (optional)
Place chicken in a Dutch oven with enough water to cover. Sprinkle liberally with salt and pepper. Cover and bring to a boil. After it has come to a rolling boil, turn off heat. Keep chicken tightly covered and let sit 30 minutes. Remove chicken and shred when cool.
While chicken is cooking, mix the 2 cans of soups with Rotel.
In a buttered 13x9x2-inch baking dish, layer half of the crushed chips, half of the cooked chicken, half of the cheese, and half of the soup mixture. Repeat layers, reserving a little cheese and crushed chips for the top.
Bake at 350 degrees for 1 hour, until hot and bubbly. Serve topped with shredded lettuce, chopped tomatoes, and sour cream.