Easy Italian Tomato Zucchini
Boomette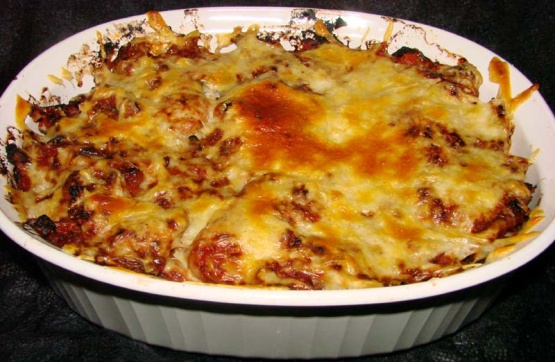 This is easy and just so good! This recipe makes lots. The onions and garlic can be sautéed hours in advance.

This was pretty good but for my taste needed a little sugar to counteract the acid in the tomatoes and perhaps some cornstarch for thickener, my batch was too runny. Next time will try some mild or medium Italian sausage browned and added to the mix - sounds delicious.
Set oven to 375°F.
Butter a 3-quart casserole dish.
Place the sliced zucchini evenly in the bottom of the buttered baking dish.
Sprinkle about 1/4 cup Parmesan cheese over the zucchini.
In a frypan, sauté onions and garlic in oil and butter until just lightly browned and tender.
Add in tomatoes, tomato paste, salt, pepper, oregano and vinegar; heat until boiling, reduce heat and simmer for about 25 minutes.
Pour the tomato mixture over the zucchini.
Sprinkle with more grated parmesan cheese.
Bake for about 30 minutes.
*NOTE* 2 cups grated mozzarella cheese may be sprinkled on top the last 10 minutes of baking.