Easy Italian Salami Pasta Salad
KPD123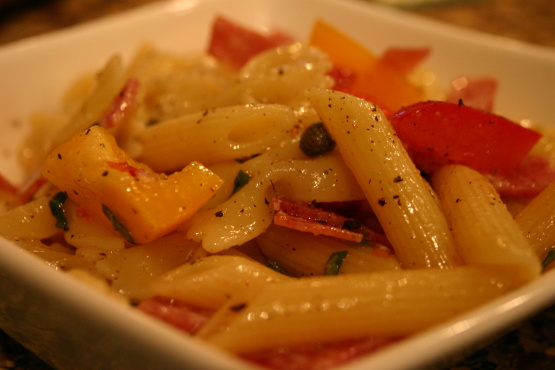 This is a recipe that is easy to make from ingredients that are often in the fridge/ storecupboard. If it is served straight after the minimum 30 minute chill time, you may find that there is a lot of dressing in the salad- this is so that it doesn't dry out if it is stored in the fridge for a few days. Serves 4 as a side dish but this would also make a good take-to work lunch or potluck dish.

Top Review by KPD123
this was really tasty! i made this for my dd and i for lunch today. the only changes i made were to use penne and bowties, a spoonful of capers instead of black olives and i used both yellow and red bell pepper. we thought this was fantastic! i'm sure it'll taste even better as a side dish for dinner tonight, given some marination time, even thought it was super flavorful to begin with! made for zaars stars tag! will post photo this evening, although i have to say, i'm a wee-bit embarrassed considering how lovely all your photos and default photo look! ah well!!
Cook the pasta according to the package directions.
Meanwhile, cut the salami into strips. Slice the black olives and dice the sundried tomatoes and bell pepper. Set all these ingredients aside.
In a large salad bowl, mix the olive oil and red wine vinegar. Whisk with a fork (or whisk) until they are completely blended and the dressing is a uniform colour throughout.
Add the parmesan cheese, salt and pepper to the dressing and mix.
When the pasta is cooked to your liking, remove it from the heat. Drain it and rinse it in cold water until the pasta is cold. Drain it again.
Add the cooled pasta and the chopped ingredients to the dressing in the bowl. Stir well to mix the ingredients together.
Cover and chill in the fridge for at least 30 minutes to allow the flavours to blend.
Just before serving, scatter chopped fresh basil leaves over the top.