flower7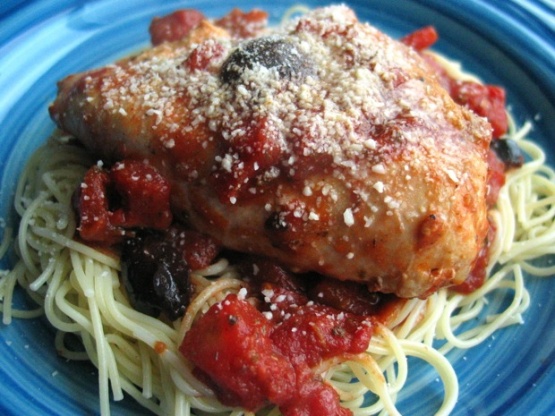 Since my husband loves black olives, I am trying to incorporate them more into my recipes. I came up with this one and he flipped over the sauce! It took me less than 30 minutes from starting preparation until it hit the table - so easy! I served it with the sauce over brown rice.

This was a nice, easy, simple dinner. I cut the recipe in half and skipped the stewed tomatoes, only using the Italian diced. I used kalamata olives as they were what I had on hand. I didn't see where the oregano was supposed to be used so I added it to the sauce. My chicken breasts were quite large and I needed to cook them a lot longer when I added them back to the sauce. Also because they were so large, I got 3 servings from the 2 breasts, along with 4 oz vermicelli, which I served it over instead of rice. This worked out well for a quick weekday dinner. Thanks for sharing!
In large skillet, heat olive oil. Add chicken breasts and cook until firm, about 4 minutes each side.
Remove chicken breasts and cover with foil.
To same skillet, add chicken broth, tomatoes and olives. Bring to boil.
Reduce heat and simmer until thickened, about 10 minutes.
Return chicken to pan and cook another 2-3 minutes.
If desired, sprinkle chicken with parmesan cheese and serve sauce over rice.