Easy Italian BBQ Chicken Pizza
flower7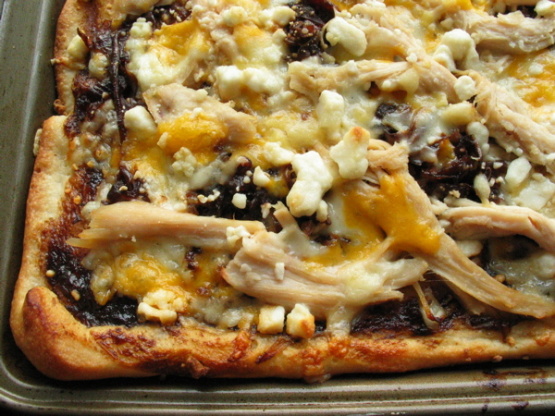 Use a combination of your favorite spaghetti sauce BBQ sauce for a delicious pizza. Amounts and ingredients are completely flexible. I usually use a little more sauce and a little more cheese. And I usually keep some roasted garlic and carmelized onions in the freezer, so this is very quick.
1

pillsbury pizza crust (in the cardboard tube)

2

ounces spaghetti sauce

2

ounces barbecue sauce

8

ounces cooked chicken, shredded

4

ounces cheese, shredded (I used a Italian 5 cheese blend)

8

garlic cloves, roasted

1

red onion, carmelized
Follow directions on pizza crust package for pre-baking.
Combine spaghetti sauce and barbecue sauce, then spoon it onto the pre-baked crust.
Top the crust with half of the cheese, all of the chicken, garlic, and onion.
Top with remaining the cheese.
Bake pizza according to directions on pizza crust package.