Annacia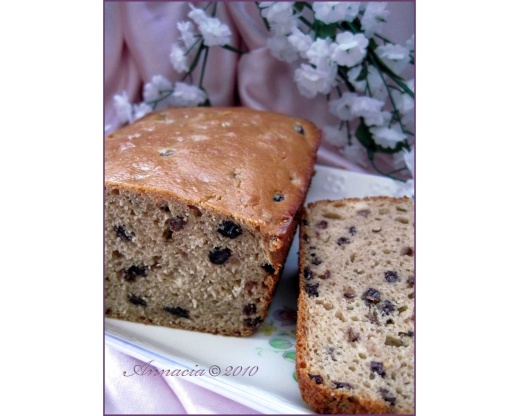 Currants are soaked overnight in cold tea overnight and then cooked into a simple cake. Great with a cuppa. Simple and no mix-master needed I haven't tried to make this recipe with gluten free flour as yet.

This recipe lives up to it's name, It really couldn't be any easier. I made a few adjustments though. In checking the 375 g of currants in ounces I found that it's over 13 ounces (wow) and I used 4 ounces, I reduced the ask for sugar to 1/4 cup of Splenda Brown Blend and 2 Tbsp of regular Splenda and I really wouldn't want it any sweeter, for the egg I used 1/4 cup of egg white. The tea of choice was Cinnamon Spice Chai which, for me, was a good choice as I feel that cake benefited from the cinnamon and spice flavors. Baking temp was 350 f and it was done in 45 mins. Since there is no fat in the recipe (except the egg yolk which I removed) the crust is more chewy than tender but the inside in quite moist and light with a very good taste.
Soak currants in the tea and add the brown sugar. Leave fruit overnight to soak.
Next day add the self-raising flour and the SR Flour and the lightly beaten egg.
Mix well with a wooden spoon and place into a greased and lined small loaf tin. I think these are also referred to as a bar tin.
Bake in a pre-heated moderate oven for about 1 hour. Turn out and cool.
Serve sliced and buttered. This loaf keeps very well for at least a week.
Cooking and prep time does not include overnight soaking of the currants.