Easy Indian-Spiced Braised Chicken
JustJanS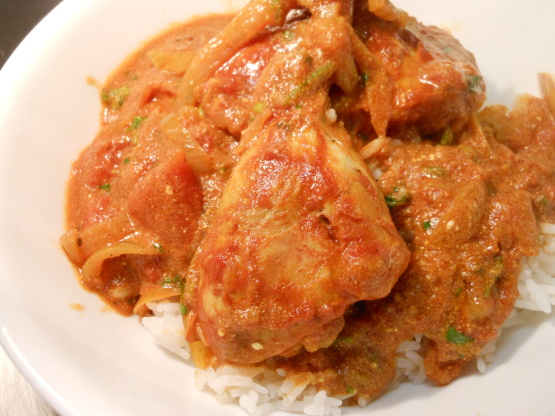 A friend served this at her house one night and I loved it! I was thrilled when I tried it on my husband and he loved it too! It was terrific to find something new, easy and really different to add to our list of "the usuals". Boneless, skinless breast tenderloins would work well with this if you prefer that to dark meat. Try World Market or Penzeys.com if you have trouble finding the garam masala. The Uncle Ben's microwaveable Ready Rice is a GREAT shortcut and makes this dish easier to take to a potluck or to a friend. I do recommend going with the plain whole grain Ready Rice brown rice versus any of the other Uncle Ben's Ready Rice flavors because it contains much, much less salt.

I'm really sorry but this was a disappointment to us. We make a lot of curries and I really should have trusted my insincts which kept trying to tell me the spices would have a raw flavour and the onion still be crunchy in the finished dish. I should have forgone the simplicity and low-fat aspects of the dish and used at least a tablespoon of oil to saute the onion, garlic and ginger, and toast those spices a little. I knew the dish was under-seasoned for us so used 1 teaspoon coriander, 1 of cumin and 1/2 of turmeric. I used two bone in legs and thighs and cooked 1 1/2 hours. The meat was excellent in the less than excellent sauce. I upped the garam masala to 1 teaspoon at the end. I'm afraid I would not make this again.
Preheat oven to 350.
Trim fat from thighs then cut meat into chunks.
Add all ingredients EXCEPT yogurt, cilantro, garam masala and rice to heavy, lidded 5-qt pot.
Stir well.
Cover; bake until chicken is tender, about 1-1/2 hours.
Remove from oven, stir in yogurt, cilantro and garam masala.
Serve over microwaved rice.