Hey Jude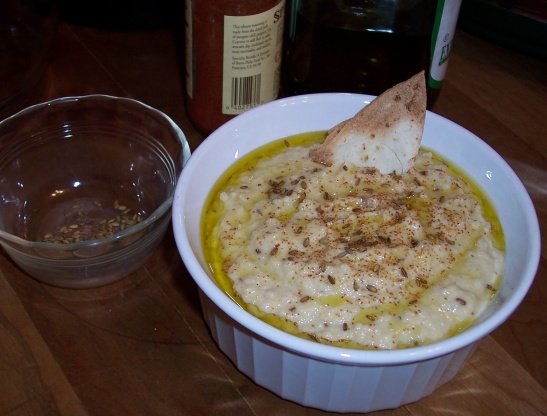 I got this recipe from a Greek appetizer class I took right before the Athens Olympics. We all adored this hummus and it is so simple to prepare.

I am of Greek heritage, and I can tell you that this is very authentic. I am passing this on to my friends for sure. It has the perfect combination of flavors. I like to use it as a dip with some Triscuits or as a spread over a piece of bread for a healthy snack.
Toast cumin seeds in small skillet until aromatic.
Reserve a few cumin seeds for garnish.
Place remaining cumin seeds in food processor (or blender) along with chickpeas, ground almonds, garlic, yogurt, olive oil, mint, lemon juice, salt and pepper.
Process to form slightly grainy paste, or to desired consistency.
Transfer to serving dish and let stand 30 minutes.
Drizzle with olive oil and sprinkle with cayenne pepper and remaining cumin seeds.
Serve with pita bread wedges.