Easy Hot Cocoa (Microwave)

This is homemade hot cocoa that takes just over a minute to make. Uses baking cocoa and milk. It comes from the Nestle website.
Directions
In a cup mix sugar and cocoa. Add enough milk to make a paste. Add the rest of the milk and microwave on high for one minute or until hot. Stir in vanilla extract.
Reviews
Most Helpful
I've made this several times already, it's so easy. I only use 1 Tbsp sugar and it is perfect. Sometimes I sprinkle cinnamon on top too. Thanks! [Made for The I Recommend Tag]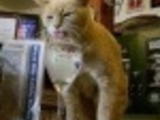 Very yummy (and super easy)! I used Splenda and a mixture of coconut milk and skim milk. The vanilla was a tad much, so next time I might use vanilla soy milk and eliminate the vanilla extract.

Very good. I used Girardelli premium cocoa powder and reduced the sugar to 1 tablespoon of Splenda (as I think the cocoa mix has enough sweetener), and I thought this was a delicious cup of hot cocoa. I think the vanilla was a little too prominent in this drink though, even with the scant amount of just 1/4 teaspoon vanilla. But even so, it was a real treat. We enjoyed it. Made for the "Best of 2011" tag game. Thanks for sharing your recipe, Margie99.