mksikora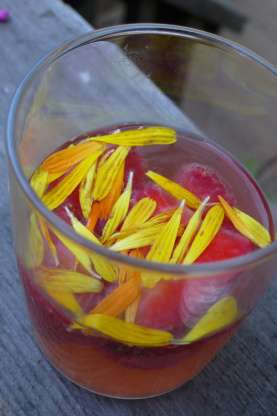 This sounds so interesting I am dying to try it! Prep time is fermenting time.

This was so much fun to make! I made it with all organic ingredients and used the resulting wine for my May Day punch. I added dried Sweet Woodruff and fresh strawberries and it was delightful! It's definitely a more rustic wine, not a crystal-clear table wine, but I was happy to have an organic wine with no added sulfites. No one reported a hangover from this wine!
13

(32 ounce) bottles white grape juice
1 1⁄2 gallons filtered water
7 1⁄2 cups sugar

1

package yeast
Pour grape juice into 5-gallon container.
Bring water and sugar to a boil until sugar is melted.
Let cool.
Pour into container.
Add 1 pkg yeast (activating beforehand is optional).
Close with airlock stopper.
Allow to ferment for 3 weeks in a sanitized 5-gallon container.
After 1 additional week, bottle.