Easy Homemade Tortilla Chips
PaulaG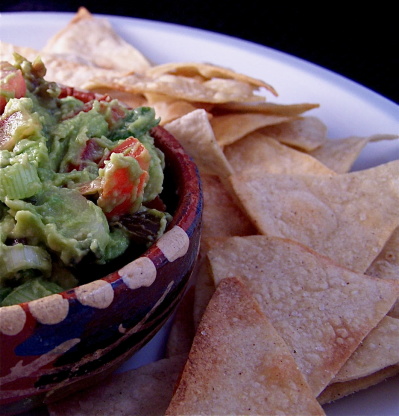 Use these chips to top your tortilla soup, or use them for dipping in salsa or your favorite tortilla dip. They're very easy to make, but must be watched closely to keep from burning.

What a treat! I am so glad you shared a way to eat healthy tortilla chips with salsa. Thanks for sharing the recipe! I didn't have popcorn salt, so I used regular salt (sparingly) and it turned out quite well. The only thing that was MUCH different from the written recipe was the cooking time. I ended up having to cook my chips at 425 for about 12 minutes to make them crispy. They turned out really well after I cooked them that long! If I'd only cooked them the 3-4 minutes they'd have been terribly gummy, otherwise I'd have given this recipe 5 stars!
Preheat oven to 425 degrees.
Lightly spray cookie sheet and set aside.
Spray each tortilla shell lightly on each side; sprinkle lightly with popcorn salt.
Using kitchen scissors (or knife), cut into one inch wide strips (if using for tortilla soup) or cut into wedges (if using to dip with).
Put on cookie sheets in one layer, laying as close to each other as possible without overlapping.
Bake at 425 degrees for just a few minutes (3 to 4 minutes watching closely for burning) till they turn a very light brown.
Remove and enjoy hot or cold.