Easy Home Made Mac-N-Cheese
loof751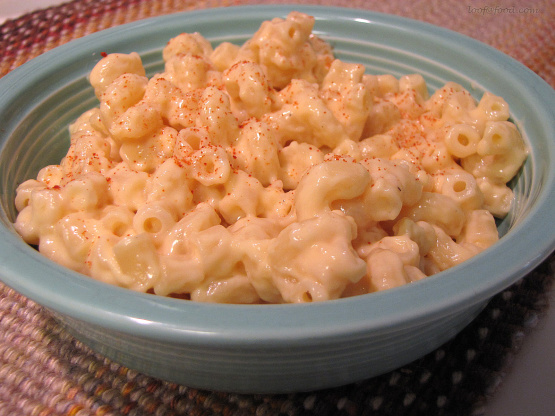 When I was younger, I found this recipe in a Children's Betty Crocker Cookbook and its stuck with me ever since! Over the years I've made a few changes, but its just as delicious as ever! A nice recipe because most people have American cheese in their house lying around - you don't have to go to the store and buy expensive fancy cheeses!

This is a very nice mac-n-cheese recipe, and you've gotta love comfort food that you can put together quickly with ingredients that are always on hand! So much better than a boxed mix and really not much more effort than that. I topped mine with a little smoked paprika and really enjoyed - thanks for sharing your recipe! Made for Spring Pick-A-Chef 2013
Put a medium pot of water on to boil. When boiling, add the elbow macaroni and cook for the amount of time the box requires.
While the pasta is boiling, combine the butter, finely chopped garlic, and flour in a small to medium size sauce pan on medium heat. When the butter is completely melted and the mixtures forms a very loose dough remove from heat. Add salt, pepper, and milk. Return to medium-high heat and whisk until everything is well combined. Keep stirring occasionally until the mixture begins to boil.
When the mixture begins boiling, slowly add a few pieces of cheese at a time and whisk until melted. Continue this process until all of the cheese is melted. If you like basil, you can add some at this time.
Drain the pasta and return back to the pot. Then add cheese mixture. Stir and serve!