Derf2440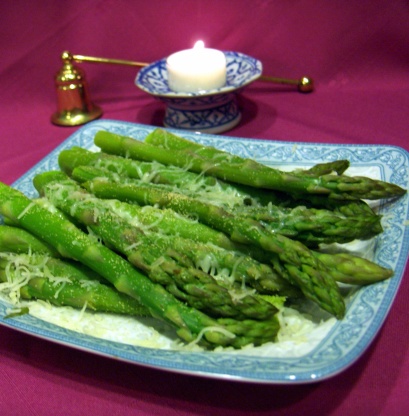 This is a quick, tasty and healthy recipe for asparagus!

I tried asparagus (from a can) a few years ago and swore I would never eat it again! I am trying to eat healthier and learned of the stress-relieving benefits of asparagus. I "Googled" and found this recipe and I am soooo glad I did. This is absolutely YUMMY!!! I was "stealing" pieces of asparagus from the pan. Thank you, Tera H., for submitting this recipe! It's a keeper!!!
Cut asparagus up into thirds, discarding the end.
Place asparagus into boiling water and boil for 5 - 10 minutes (depending on how crisp you like it).
Strain water from pot and add garlic salt and parmesan cheese sprinkling evenly.