Easy Hamburger Corn Casserole
Bec6206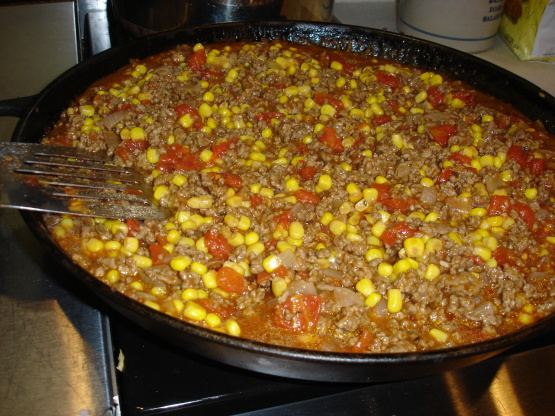 This can be a do ahead casserole just pour the ingredients into a casserole dish before you do the final 20 minute simmer and then pop it into a 350F oven 25-30 minutes before serving - put some buttered crumbs on top - I like to serve it over noodles or add cooked macaroni to it for the final simmer - I treat this as a good basic casserole that is tasty as is or even better with your creative touch

Top Review by PanNan
What a quick and easy recipe for a weeknight (and economical, too). A real family pleaser. DH and DS had huge second helpings and suggested that I not lose this recipe! Always a good sign.... I served it over macaroni. You're right, it's a perfect recipe to vary a bit whenever you make it - maybe some bell pepper, maybe some beans instead of macaroni, etc., etc. This is a keeper.
Brown the beef on the sprayed pan, add onions, garlic, chile powder& crushed red pepper flakes.
Stir until onions are softened and the burger is browned.
Mix cornstarch with the beef broth add to the pan.
Add tomatoes mix well& simmer until thickened add corn mix and continue simmering for approz 20 minutes Season with salt& pepper.