Easy Hamburger Biscuits With Mushroom Gravy
Prep 15 mins
Cook 10 mins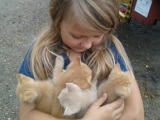 This is a replica of a main dish often served in our high school cafeteria (Go Spartans!). Easy, tasteful and filling, these are one of my hubby's most requested meals. I use the cheesy garlic biscuit mix by Bisquick. Sometimes I use a can of tomato soup rather than mushroom just for a change. I like to serve these with mashed or fried potatoes and green beans.
Directions
Follow directions on biscuit mix package to make dough. Brown hamburger with onions and salt and pepper to taste preference. Mix 1/2 or a little more of meat into dough. Kneed to mix well. Bake as directed on biscuit mix package.
Meanwhile mix soup and 3/4 can milk and remaining cooked hamburger and cook till throughly warm. This sauce can be thinned to your preference by adding more milk. For a more meaty flavor, add a little beef bouillon but be careful as it will become more salty.
Serve hot biscuits smothered with sauce and sprinkled lightly with chili powder.
Most Helpful
I guess that I'm just stuck on traditional white sausage or burger gravy with biscuit's that I grew up with. I made from scratch biscuits and then followed the recipe including the onions and beef base. I think that it was the mushroom soup that threw me off and, unfortunately, this fell short of my expectation. It is certainly not a bad recipe at all and I did like it, I just didn't love it.

i started with the idea and then put my own spin on it. in lieu of the ground beef, i used 4 morningstar farms black bean burgers that i microwaved and crumbled up and i also used some shredded cheddar cheese (about 1/2 cup). for the mushroom gravy, i added another three spicy black bean burgers, some salsa (not sure how much i had left in the jar) and about 1/2 cup shredded cheddar (maybe a little bit more (it was a handful) and used rice milk (that's all i had on hand) and cooked until the cheese was melted. it was a huge hit in my family. am going to try it next time with vegi sausage and feel like i am having sausage biscuits and gravy -- thanks for the inspiration

This was really good! Super easy and way cheap. If you are on a budget and want something quick, filling and tasty this is the meal for you. Thanks for a great recipe.