Ambervim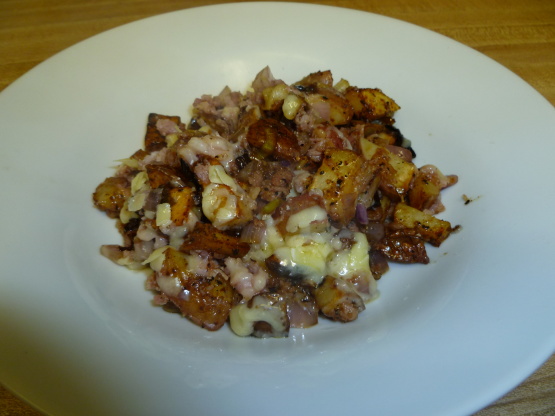 This is an easy dish to make that is great served at any time of day. I sometimes crumble some crispy bacon in there for even more flavour variety! It has a nice zing to it due to the spices but is not overpowering.

Whenever I cook ham, I make extra baked potatoes. Cold previously cooked potatoes make the best fried potatoes or hash dishes. Sometimes I scramble a few eggs and pour over near the end of cooking time and sometimes I leave out the cheese. But, as is, WONDERFUL recipe. Thank you!
Heat oil in large skillet over medium-high heat until sizzling.
Add cubed potatoes and the last six ingredients to pan.
Fry potatoes until golden brown and fork tender, stirring occasionally.
Then add the butter and diced onion. Mix.
When the onion has softened slightly, add the ham to the pan and mix again to combine.
Once heated through sprinkle the cheese over hash.
Serve when cheese has melted.