Easy Grilled Shrimp Scampi
Kim127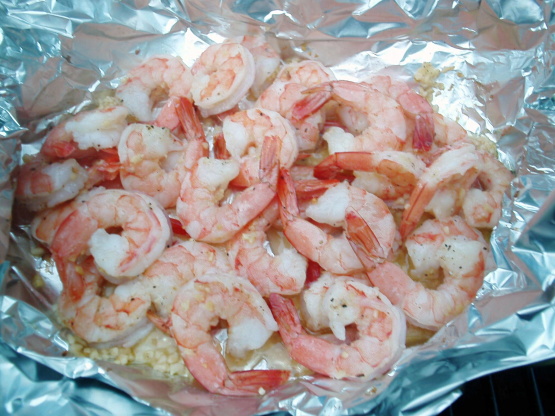 Delicious shrimp scampi floating in a foil boat makes clean up a breeze! Can be prepared ahead which makes it wonderful for those busy evenings or get togethers! The foil also makes this dish great for camping and picnics!

This was a winner at my house with the gang. We all loved them! I can't wait to show off this recipe at my sister's house over the 4th! Thank you for sharing!
If using cleaned and deveined shrimp please skip to step 4 --
Cut shrimp shell with scissors starting at the seperation between the head and body.
Use knife to cut a shallow slice down back of shrimp and devein.
Make a 'boat' with several layers of foil to hold shrimp and juices.
Place shrimp in boat and season with salt, pepper garlic and cayenne making as hot as you want.
Cut butter into pieces and place on top of shrimp.
Place boat on grill and cook just until shrimp curls.
Garnish if desired.
You can skewer these too but they are more moist done this way.