Easy Green Beans With Bacon
lazyme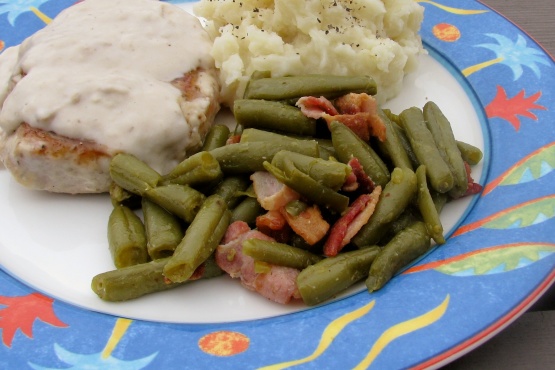 I have been serving this one for years. It is the one vegetable I can count on my kids eating, and it is very quick and easy to put together. The kids (and I) love the flavoring the bacon adds. This makes soft green beans (not crisp), which my family prefers. Cooks on stove top.

These were really good!! I used fresh green beans which I had cooked in water. I spooned the green beans into the bacon grease and added 1/4 cup of the water from the green beans into the skillet. They were good that way. I will be making this again with both fresh and canned green beans. Great recipe Trisha!!
Fry the bacon in the pan in which you will cook the beans.
Do not pour off bacon fat.
Dump one can of green beans including juice into the bacon& grease (first drops will sizzle.) Salt to taste- (the saltiness of the bacon will affect how much is needed.) Boil on a fairly hot temperature with lid off just until juice evaporates.
Serve.
This recipe can be doubled or tripled to serve more people.