Easy Greek Potatoes Yachni
Rita1652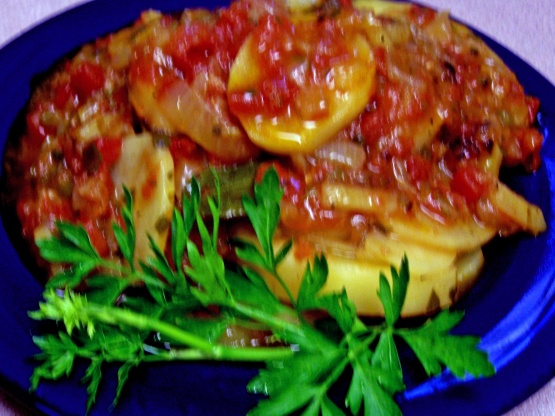 The ingredients look long, but it's a classic store/cupboard sort of standby, cames from a favourite recipe book "tastes of the Aegean" and is an excellent one pot, whole meal, tasty potato dish... I make double and freeze half for an easy after work dinner for those days when you want something hearty but can't really be bothered, or vegetarian potluck dinners... Enjoy !

Takes forever to cook,I kept adding water, I think it took total of 1 hr to cook,by that time potato slices( which i cut really thin) lost their shape and turned into a mashed potato with tomato sause. My husband liked the taste,but it was too simple for me. 4 stars for taste and only 3 for appearance. The photo inculded with this recipe must have been taken undercooked.
Chop the onion finely and sauté in the olive oil.
Cut the potatoes into slices, add them and the lemon juice to the onions and sauté for a few minutes.
Add half of the water and all the rest of the ingredients and simmer until the potatoes are done (adding the rest of the water if necessary) and until the sauce has reduced.
*Note* I notice that it depends on the brand of canned tomatoes, but if I use certain brands there is a lot of "juice" and so I omit the water from the recipe because otherwise the sauce becomes too thin.
Another *note* the original recipe calls for 1 1/12 cups of olive oil, but I cut it down to just half a cup to make things healthier.
Also, cooking time varies with variety of potato and size of your slices, I've given an estimate.
Enjoy!