Easy Grands Cheese Pizzas
Pam-I-Am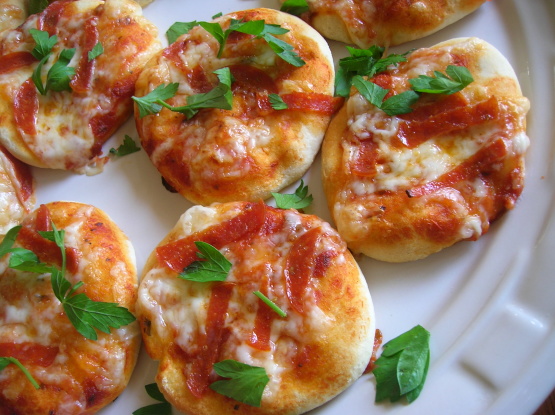 I found this in the coupon insert of our local paper. It was for pepperoni pizzas, but we aren't big fans of pepperoni. On the night we decided to try them, I only did the flattening of the biscuits...my three-year-old son (who is a cheese pizza-a-holic) put on the sauce and cheese (we made ours with no pepperoni). He gobbled a couple up, and ate another one later as a snack. He was so proud of himself and I was proud of him! I am sure you could use whatever toppings you would like. We only went through one small can of pizza sauce and about 2 cups of cheese, but yours may depend on how many you make or how much you like sauce and cheese. The recipe below is cheese only...add whatever suits your fancy!

My grandkids absolutely love these and have so much fun making them! I prefer to pat them out and pre-cook the biscuit crust for about 10 min. I then put out a variety of ingredients and let each child make their own. I find that even the fussy eaters will add such things as onions and green peppers and actually eat the pizza...there's just something about making your own! We bake them for about 10 min.
1

(16 1/4 ounce) can large refrigerated biscuits

1

(8 ounce) can pizza sauce

2

cups mozzarella cheese
Heat oven to 375 degrees. Press each biscuit to 6-inch round and place on greased cookie sheets.
Top with pizza sauce, cheese and whatever toppings you like.
Bake 10-15 minutes.