Easy Gluten Free Granola Bars
Elke H.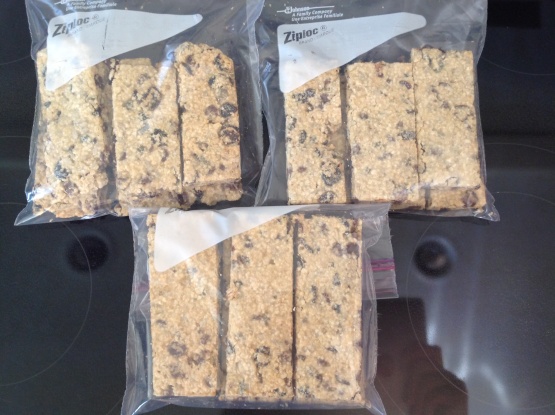 Made with quinoa flakes. Delicious chewy granola bars. Easy to make, freezes well. Rolled oats can be used instead of quinoa flakes. Recipe adapted from one by LIsa Miller of Ontario
Tasty, versatile and easy recipe. I made various iterations and had never made granola bars before. The picture I'll try to attach used Quinoa, dried cranberries, semi-chocolate chips, the sweetened condensed milk and sunflower seeds as per the recipe. For the cup of nuts I used a mixture of mostly ground cashews, slivered almonds, pumpkin seeds and a few more sunflower seeds. I don't like commercial gluten free granola bars, but these were popular with me and my kids (including the one who usually wouldn't eat any kind of berry and is generally pickier). Thanks for this super recipe!
Line a 15x10 inch (38x25cm) pan with parchment paper.
Combine quinoa flakes, nuts, raisins, seeds, chocolate chips and sweetened condensed milk. Chopped apricots or cranberries can be used instead of raisins.
Mix well either in a stand mixer or you can roll up your sleeves and mix by hand - literally.
Transfer to parchment-lined pan. Put another piece of parchment paper over the top and compress as well as possible with the back of a spoon, hands or a handle-less rolling pin.
Bake in a preheated 325 degree F. (160 C) oven for 25 to 30 minutes or until golden brown.
Cool completely then chill, overnight is best. Cut into bars. Store in an airtight container, can be frozen.