Prep 15 mins
Cook 10 mins

a very quick method of this recipe, easy preparation, and quick microwavable time.
Directions
in a 3 quart casserole, combine the garlic,and the vegetables, cover, and microwave on high for 6 minutes, or until vetables are crisp, stir after 3 minutes cooking.
Stir in remaining ingredients until blended. Cover and microwave on high for 4 minutes or until thickened, stirring once after 2 minutes.
Serve over rice if desired.
Most Helpful
This is so simple and so very tasty! I will keep this recipe handy for anytime I want a nice hot yet crisp veggie dish in a hurry. My photo got lost in a pc glitch or I would have posted. Made for Pick-A-Chef Fall 2011.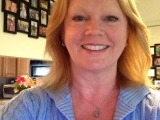 Couldn't get much simplier. Great when you are rushed and don't have much time or need a quick side dish.
Perfect for those weeknights when you are tired and want a quick healthy dinner. The veggies were crispy tender and the sauce had nice flavor without over dominating the veggies or making them too wet. Made as written using fresh snap peas (which we love) as snow peas were not available. Thanks for the post.