Easy Garden Bake(2 Ww Points)
punkyluv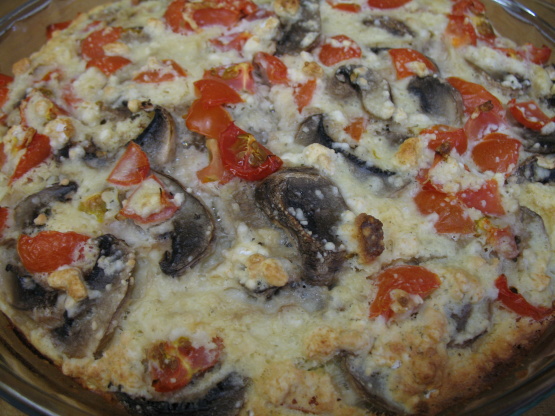 From angelfire.com! UPDATE- 3-30-09 i added a layer of mushrooms to this and iam glad i did! this was really good, fast to make, low in points, and loaded with veggies...what else do we want? i would serve with a small salad or some sliced fruit.....enjoy!:)

I have made this twice so far and love it! Passes it on to several friends on ww too. I like to use the mushrooms and add garlic to this. Last time I added some yellow squash. Very easy to put together and great that it is so low in points. Even my sons liked this recipe. I am sure to make this over and over as there are so many ways one could make it using different veggies. I put this in a square pan to bake and cut in four at 3 pts a piece. Thanks for sharing.
Heat oven to 400º. Grease 9-inch pie plate. Layer zucchini, tomato, onion and cheese in pie plate. 2. Stir remaining ingredients until blended. Pour into pie plate. Bake about 35 minutes or until knife inserted in center comes out clean. Cool 5 minutes.
Makes 6 servings.
1 Serving: 90 calories (20 calories from fat); 2 g fat (1 g saturated); 5 mg cholesterol; 440 mg sodium; 13 g carbohydrate (1 g dietary fiber); 6 g protein.
High Altitude (3500-6500 ft): Increase baking mix to 3/4 cup and bake time to 35-40 minute.