Easy Fruit Filled Coffee Cake
lilchris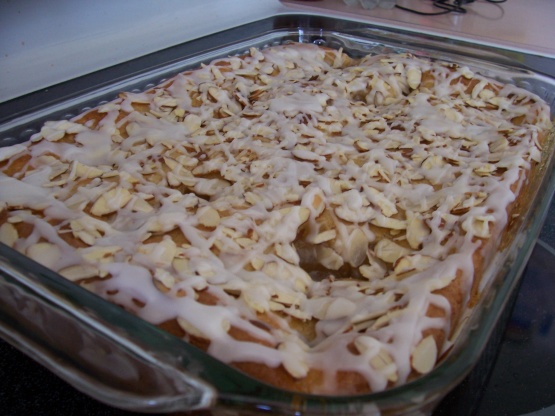 I found this in a Kraft cooking magazine. It is so easy and quick to prepare,and the taste is wonderful. I have made it with cherry pie filling, but next time I will use Blueberry pie filling.

I also found this recipe in the Kraft cooking magazine, and thought it sounded wonderful and so easy. I was making it to send with my husband to work and didn't after I tasted it. Made exactly as the recipe stated--the cake rose too high for a coffee cake and just wasn't that good. Sorry to give a "fair" review LoveToBake67 but this one just didn't fly for us. Not bad, but I wouldn't waste the ingredients again.
Preheat oven to 350°F.
Beat first 5 ingredients with mixer until well blended.
Pour into greased and floured13x9 inch pan; top with spoonfulls of pie filling.
Bake 35 minutes or until toothpick inserted in center comes out clean.
Sprinkle with nuts, let cool for 10 minutes.
Mix sugar and milk: drizzle over cake.
Cool completely.
Note: If glaze is too thick, add a little more milk until it is thin enough to drizzle.