anme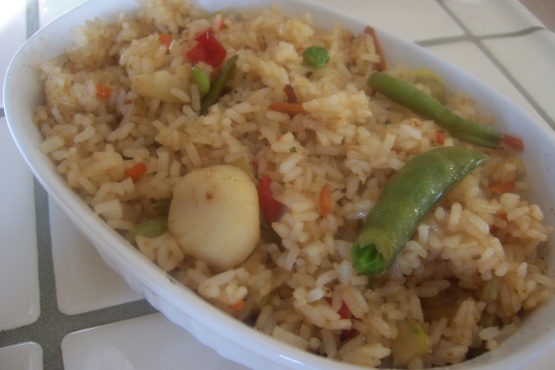 Recipe by anme
Simple fried rice recipe.

Good basic fried rice recipe. I really liked the addition of the stir fry vegetables. I made this for our "one day late" chinese new year dinner. Thank you so much for sharing this recipe with us.
1

small onion, chopped

7.39

ml sesame oil (or less)

1

egg, beaten (optional)

7.39

ml sesame oil (or less)

51.76

ml soy sauce

118.29

ml cooked stir fry vegetables (mixture of bean sprouts, carrots, peas, green beans, water chestnuts)

473.18

ml leftover cold cooked rice

14.79

ml light soy sauce (or more of less to taste)
1 tbsp oil in a skillet and stir fry onion until it is golden but not burnt. Put onions to the side of the skillet.
Add eggs to skillet and fry until fluffy, remove eggs from skillet.
Add the extra oil to skillet then add veggies and rice, tossing to get everything mixed.
Add egg back to skillet then sprinkle the rice with soy sauce and enjoy.
Note you may use less oil, my family loves the taste of it so I use more than most.