Easy French Toast Casserole (Make Ahead)
Oat57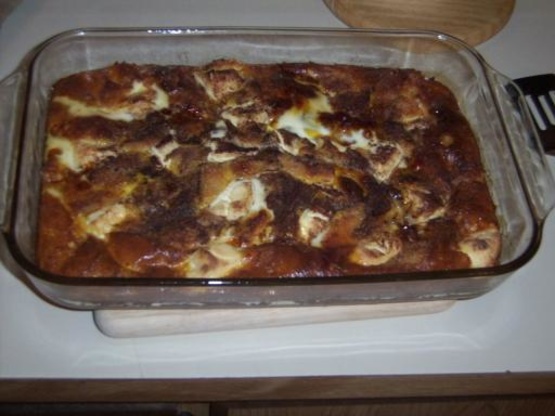 Great for Christmas morning as you make it the night before and pop it in the oven for about an hour. It's really yummy and SO EASY! There are a few other french toast casserole dishes here, but none quite like this one. My friend Kathy made this for a ladies brunch/book club and everyone loved it. I had to have the recipe!
Made this for Easter brunch '09. It was a huge HIT! I added some fresh blueberries on top, and it was delicious, beautiful and festive looking! I also used the "real" syrup. Lots of $$ but, wonderful!
The night before: Grease a 9x13 baking dish. Break up half the bread by tearing or cutting into 1 inch or so cubes.
Scatter cubed cream cheese over the top.
Top with the remaining bread, also broken or cut into cubes.
Sprinkle with the cinnamon and the sugar.
Pour maple syrup over the top (the real stuff always tastes better!).
Pour the beaten eggs over the top next.
Cover with foil and place in the fridge overnight.
The next day: Preheat oven to 350°F
Bake uncovered 45-60 minutes, depending on your oven and how mushy you like your french toast.
Sprinkle with powdered sugar before serving.