Ingy1171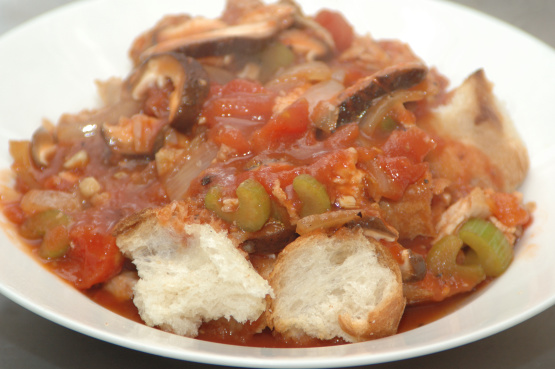 A fantastic weeknight dinner slightly adjusted from a Rachael Ray recipe. A hearty, rustic stew that's perfect on a cold night.

Just awesome recipe! Very nice and easy to cook. I modified it with a whole uncooked chicken that I cut in small pieces and first fried a little with onions and garlic in olive oil. The result was sooo delicious! I have mashed potatoes as a side dish (I had no French bread :( ). All of my family asked for more! Thank you very much for sharing! I think I will use this recipe as often as I have chicken in my kitchen! :)
Pre-heat the broiler.
Heat olive oil in small saucepot over low heat with crushed garlic cloves for 3-4 minutes. Remove from the heat and reserve.
Split open the French bread lengthwise, brush both cut sides liberally with the garlic oil and place under the broiler to toast until golden brown. Remove and chop the bread into extra-large, bite-sized pieces.
In a pot add onion, chicken broth and the crushed tomatoes. Bring the mixture up to a simmer.
While the tomatoes are getting hot, chop the poached chicken into chunks. Once the tomatoes are simmering, add the chunked chicken, chopped tarragon and season with a little salt and pepper.
Continue to simmer until the chicken is heated through.
Divide the garlic bread chunks between 4 serving bowls, top with stew and serve.