Easy Freezer Vegetarian Black Bean Burritos
flower7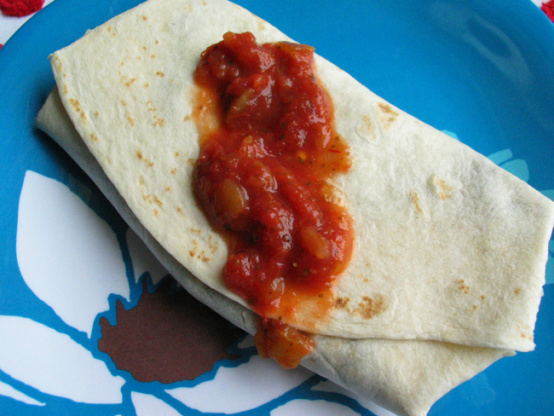 A great and super-easy recipe for take-along lunches to work, school, etc. Instead of store-bought salsa, an excellent ingredient is recipe 276150. You can embellish them a million ways. This is one of my favorite OAMC recipes because making 12 burritos literally takes less than 10 minutes and makes 12 really yummy lunches.

Excellent, quick and easy! I love how customizable these are! Instead of pureeing beans, I used refried black beans. For veg I used a box of frozen spinach and for cheese I used Monterey jack with a little sharp white cheddar. I had huge tortillas so only got 8 burritos (I also didn't have 2 cups veg). For filling them, I mixed the beans, spinach & salsa together (so it was easier to portion them more evenly) then sprinkled the cheeses on top. The only issue I had was the reheat time from frozen - it took my microwave 2 1/2 minutes to get one hot all the way through. But once heated, they were great! I will be sure to keep a stash of these in the freezer all the time now. Thanks for sharing!
Set out a 9x11 baking pan to place folded burritos in.
Whirl Black Beans (drained slightly) in a food processor for 3-5 seconds to make a thick paste.
Warm up tortillas in the microwave. Place all 12 on a plate on high for about 45-60 seconds.
Spread bean paste on tortilla. Layer on veggies, salsa, and cheese, (leftover chicken, shredded would also be good).
Roll up, folding in ends.
Place seam-side down into baking pan.
Repeat process for all 12.
Place baking pan in freezer until burritos are frozen solid.
Wrap individually in foil/freezer paper and place in a large Ziploc bag for easy grab-and-go lunch.
To reheat: cover with paper towel and microwave for 30-60 seconds, depending on microwave. Top with extra salsa, sour cream or plain yogurt with cumin.