Prep 10 mins
Cook 20 mins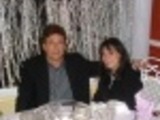 Falafels are traditionally served in pita bread with chopped lettuce, tomato, and onion, and with tahini, a sesame sauce that can easily be found in your supermarket. But, this Middle Eastern treat is also super as a before-dinner appetizer or as a side dish.
Directions
Preheat oven to 400 degrees. In a food processor, combine all of the ingredients, except the oil. Mix on medium-high speed until well blended.
Shape the mixture into 1-1/2-inch balls and place 2 inches apart on a cookie sheet sprayed with nonstick cooking spray. Flatten the balls to about 1/2-inch thickness with the bottom of a heavy drinking glass. Brush the falafels with the oil and bake for 20 minutes, until golden brown on both sides, turning halfway through the baking.
Reviews
Most Helpful
Mmmmmm, these were so good!!! I decided to go for the gusto and pan-fried them instead of baking them, but aside from that followed the recipe exactly. I served them in pita breads with homemade tzatziki sauce - YUM!!! Thanks for posting, Jackie!

I never had traditional falafels and never prepared these myself.
I knew they are usually deep fried, but I really don't like the smell of the hot oil in the house and so I opted to try this recipe.
They turned out perfect, not to dry, not sticky and perfectly baked in the oven.
I still had some sauces leftovers from our "foundue chinoise" which were a superb combination with these falafels.
My family loved this dish very much and will prepare falafels for sure again.