Easy Enchiladas (Beef or Chicken)
Ashley Cuoco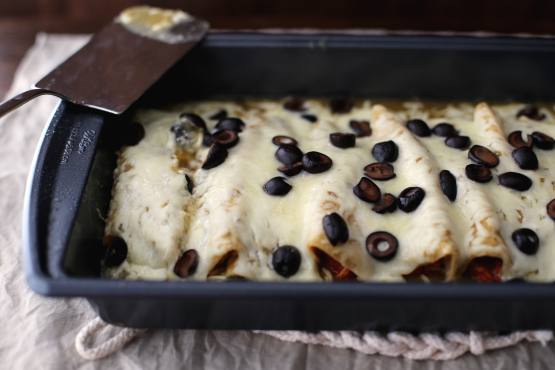 These easy enchiladas are my husband's favorite recipe of mine. Because of the many different options, it is very versatile.

What a great dish! I only made one change and that was to add 8 ozs of taco sauce and about a half cup of sour cream to the enchilada sauce. I have a feeling I'll be making this recipe quite often. Up date. I've now made this frying the corn torts and microwaving them to make them soft. The microwave is the way to go, it really cuts out a lot of grease from the finished product, and is much easier. UP DATE to the last up date...To make this easier to prepare I now make it like lasagna. I put down enchilada sauce a layer of corn tortillas, followed by the meat then a layer of cheese then another layer of tortillas. I top it off with enchilada sauce and cheese. The prep goes so much quicker using this method.
If using chicken, boil chicken in water.
Then rinse and shred with fork.
Add onion and garlic.
If using ground beef, brown with onion and garlic, drain.
Add next 7 ingredients (worcestershire sauce through black pepper).
In another skillet, heat oil.
Add tortillas, one at a time, for 10 seconds on each side.
Drain on paper towel.
In 10x13 baking pan, pour just enough enchilada sauce in the bottom to coat the bottom of the pan.
Fill each tortilla with a spoonful of meat mixture.
Cheese, onions, and/or olives can be put inside each enchilada at this time, if desired.
Roll tortilla and place seam side down in pan.
Continue with remaining tortillas.
Pour remaining enchilada sauce over tortillas and top with cheese (additional olives may be added if desired).
At this time, pan may be refrigerated for several hours or overnight.
Bake in 350 degree oven for 20 minutes (30 minutes if refrigerated).
Top with sour cream.
Enjoy!