vrvrvr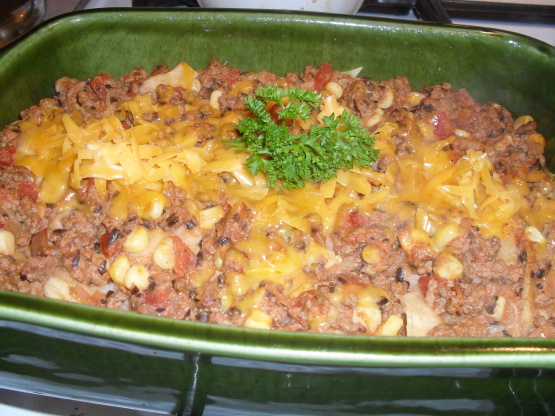 I make this easy casserole all of the time, and it is always a hit. Simple and really good!

My recipe is almost identical to this one but this recipe has green chiles in it and they added a lot! Since I usually have onions in mine, I put onions into the hamburger while it was browning and also put in about 3/4 can of black beans. YUM!! I'm definitely making this my new keeper. Great for a quick and easy meal.
Heat oven to 375.
Grease 2 qt.
baking dish.
Brown ground beef in large nonstick skillet over med.
heat until thoroughly cooked, stirring frequently.
Drain.
Add corn, enchilada sauce and green chiles, mix well.
Spoon 1/4 of beef mixture into baking dish.
Top with 1/3 of tortilla strips.
Repeat layers 2 times, ending with beef mixture.
Cover with foil.
Bake at 375 for 40 minutes.
Uncover; sprinkle with cheese.
Bake an additional 5 minutes or until casserole is bubbly and cheese is melted.