Easy Elbow Macaroni Salad
Pam-I-Am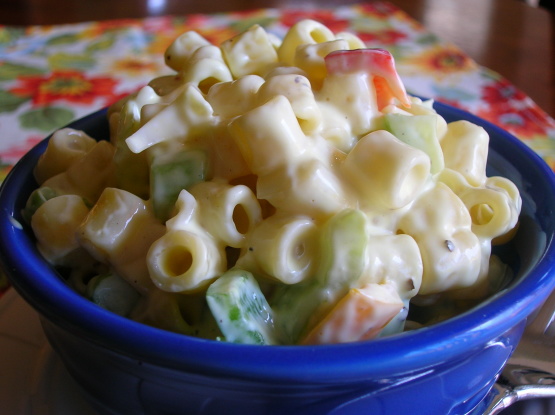 Can be made ahead, kid friendly, quick and easy. I got this from a pasta website. Nice to make for a BBQ or summer side dish. It's a crowd pleaser! For a full 1 lb. (16 oz.)box of pasta, just double the recipe. I usually make this with regular mayo and milk since that's what I have in the house.

I made this recipe for a potluck recently, and it turned out great! Only I had to significantly alter the recipe to make it turn out that way. First of all, I tripled the recipe, but only doubled the mayo because I found that 2 cups was too much already; second, I added large amounts of lemon juice (I didn't measure any of my additions precisely), because it was just too bland with only 2 tbsps of vinegar; third, I added cubed cheddar cheese and tomatoes, and used red as well as green peppers. I also added a healthy dose of cayenne pepper for flavour, and approximately doubled the mustard. Basically, this recipe is a great place to start, but it needs lots of extras to give it a kick. It's quite bland (and heavy on the mayo!) otherwise. I found that the lemon juice was what really did the trick! Thanks for the starters, though, Oolala!
Cook and drain pasta according to package directions; rinse with cold water to cool.
In large bowl combine mayonnaise, milk, vinegar, mustard, sugar, salt and pepper.
Add macaroni, celery, green pepper and onion; toss to coat.
Cover; chill to blend flavors.