Easy Eggplant, Mozzarella & Ham Wraps
Prep 10 mins
Cook 15 mins

This is a delicious recipe I found years ago in a local paper. I have served it as an appetizer and as a light supper. The recipe didn't specify amounts so I have always eyeballed and have never been disappointed.
1 large eggplant, cut lengthwise (cut about 1/4-inch thick)
1 teaspoon kosher salt
1⁄2 lb mozzarella cheese - 1 slice for each slice eggplant, sliced about a 1/4-inch thick
1⁄2 lb deli sliced smoked ham- 1 piece for each slice eggplant
1 large ripe tomatoes, chopped
1⁄2 cup freshly grated parmesan cheese
cooking spray
Directions
Preheat oven to 450.
Sprinkle eggplant slices with kosher salt and allow to sweat for about 10 minutes.
Pat slices with a paper towel to remove as much moisture as possible.
Grill eggplant until pliable.
Remove eggplant from grill and allow to cool slightly.
Top each slice of eggplant with a slice of ham and a slice of mozzarella.
Roll up and secure with a toothpick.
Arrange rolls in a baking dish coated with cooking spray.
Top with chopped tomatoes and parmesan cheese.
Bake until bubbly.
Reviews
Most Helpful
I love the idea of this recipe. I always salt eggplant to draw the water out, so I sweated them as directed. I broiled the eggplant, rather than grilled, and would probably coat them with a little olive oil next time before doing so. I used shredded Mozzarella cheese and sliced Provolone cheese. Instead of 1 large tomato, I used grape tomatoes, halved. Once the eggplant was broiled, it took no time to put together. However, I do think this was a little bland and needs a bit more seasoning. Probably, it would be a good idea to season the eggplant before cooking to make the flavors pop. It is a great idea, though, and I hope to try this again. Made for Spring PAC 2012.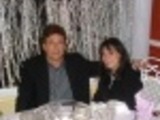 Well, this certainly is a delightful dish!!! The combination of the smoked ham, tomatoes and parmesan cheese compliments the eggplant perfectly. What is also nice about this dish is you can use different cheeses and seasonings for variety, if you choose. It's simple and quick and very flavorful. Thanks so much for sharing it, Lucky in Bayview.
Made for PAC 2010. It was very good. We had it for lunch a couple of co workers and me. I do have a few suggestions. First, I actually didn't salt the eggplant. I know a lot of people do. I just don't. Also, if I salt my eggplant, I wash well before I grill it. My preference. I used a grill pan on medium and they came out perfect. Just a light seasoning of salt and pepper and a brush of olive oil. Tender, sweet, just lightly golden and easy to roll. I used a good smoked ham I think that really is key. I used 2 tomatoes, lightly seeded and chopped, I liked the extra tomatoes in the dish. I used fresh mozzarella in 1/2 the dish and 1/2 deli sliced in the other half. The fresh mozzarella is definitely better. I seasoned 1/2 the dish with a little dried Italian seasoning which I though helped. Otherwise, it is a bit bland. This was great for lunch, appetizers and would be wonderful served over a mediterranean type of salad with artichokes and olives for a nice dinner salad. Will definitely make this again. Easy and very easy to make. Using good ham and cheese I think is important to keep a good flavor. Thx for submitting.