I love to order Egg Foo Yong when I go out for Chinese food. This is an easy recipe, that is quite tasty! Feel free to add about 1/4 C of meat like chicken, pork or shrimp. However, I prefer the vegetable version.
Directions
Mix the eggs, soy sauce, vegetables, and green onions together.
Set aside.
Mix the sauce ingredients in a saucepan over medium high and stir continuously with a whisk until until clear and thickened.
Keep the sauce warm and set aside.
Heat oil in a skillet.
Scoop out about 1/2 cup of mixture and place in oil to form a patty.
Cook over medium heat a few minutes on each side till firm.
The first side usually takes about 2 minutes, then second about a minute.
Pour the warm sauce over the finished patties and serve!
Most Helpful
I didn't think this deserved poor reviews. My girls and I really enjoyed this. Egg foo yong usually has a hard time holding together, it's all part of making it. Adding thickening agents such as flour or cornstarch would completely ruin the recipe. Egg foo yong is not known for its "zippy" taste, and we thought this was good for egg foo yong. Also, I didn't use hardly any oil, just a few teaspoons so they wouldn't stick. Something else I found helpful was to put a lid on them while they cooked before I flipped them the first time, this made them easer to flip because they were firmer.
Well, I love Egg Foo Yong, and I thought that the previous reviewer may have had unique problems, so I picked this recipe for Pick A Chef. Unfortunately, the previous reviewer's problem was not unique. I read that she thought it needed more flavor, so I added some ginger before I cooked the first patty, as a test. The first patty fell completely apart. I think that maybe sitting with the soy sauce drew the water out of the canned veggies? Anyway, when I cooked the recipe as written, this is what I got: very greasy scrambled/fried eggs with Chinese vegetables. Well, the veggies are EXPENSIVE, so I decided to try and salvage it. I first tried corn starch, to try and help the egg stick to the veggies. No dice, wasn't happening. So I added flour. And added flour. And added flour. By the time it held together, I basically had pancakes with Chinese veggies (and more ginger and garlic, which I added after tasting the original.) So I went ahead and added a little baking powder to try and combat the heaviness of the flour. (It worked pretty well.) End result was something like Egg Foo Yong as I know it; at least, it was edible. I ate mine with straight soy sauce, though, because I tasted the sauce and it tasted like salty water. I'm rating this recipe two stars because it was salvageable and my husband enjoyed the end result. But I don't think I'll try this again. (BTW, it made 6 patties-- if you count the first one that fell apart-- not two. It is enough food to serve two to three, for sure, counting one serving as two patties.)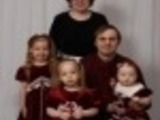 The patties in this version didn't hold together too well, and it could have used a little more flavor.