IngridH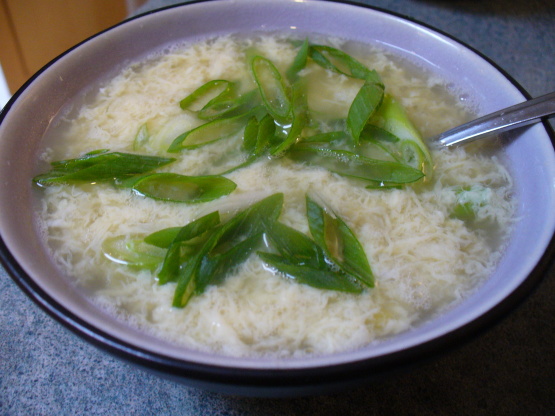 Easy and yummy. Perfect for sick tummies.

This is the way I make my egg drop soup. I was happy to see it posted so that I could comment on how easy and yummy this soup is. The only thing I will mention is to use a good quality broth such as Swansons. I have used off brand broth before and it just isn't the same. I also add my green onions to the soup as it is heating up because I like them just a little cooked and omit the salt. So yummy and easy! I highly recommend this recipe to anyone wanting to try egg drop soup!
Heat broth in saucepan to boiling.
Meanwhile, whisk the eggs well. You can add the cornstarch to help keep the eggs in larger lumps in the soup.
Remove pan from heat once broth is boiling.
GENTLY stir in eggs. The more you stir the smaller the egg 'drops' will be.
Taste. Add salt if desired. Onion salt is really yummy here!
Garnish with chopped green onion.
NOTE: for sick tummies try adding a little lemon juice and leave out the salt and onion. This was the ONLY thing my Daddy could eat when going through chemo.