Easy Dreamy Strawberry Cream Cake
Lvs2Cook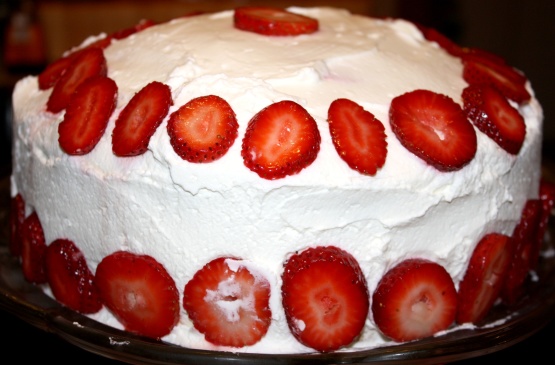 This is a beautiful cake to behold! And so easy with a prepared white cake. The frosting is absolutely divine. A wonderful spring or summertime dessert; make this cake at the peak of the season when strawberries are at their reddest and sweetest...enjoy! P.S. Great served with a scoop of strawberry ice cream.

This is delicious cake and not hard to make at all! I made the layers from a box. I did leave out the kirsch but otherwise made as posted. My daughter had requested a strawberry cake for her birthday and I am glad I chose this one ~ I'll be making it again. Thank you for posting a keeper!!!!
In a medium bowl, combine strawberries with the sugar and kirsch; set aside for about 30 minutes at room temperature. Reserve several of the most attractive strawberry slices for decorating the top of the cake.
To make frosting/ filling:.
On medium-high speed of mixer, whip the cream cheese with the powdered sugar and vanilla until smooth and creamy, about 2 minutes.
Reduce to medium speed and beat in the cream until starting to thicken, then increase speed to high and beat until soft peaks form, about 2 to 2 1/2 minutes. Do not over mix.
Assemble the cake:.
Fill one cake layer with half of the strawberries, arranged in an attractive pattern. Carefully spread 1/2 of the frosting over the strawberries, to within 1/2 inch of sides.
Place second cake layer on top of first layer and press gently. Repeat with strawberries and frosting; decorate top of cake with the reserved strawberries.
Decorate top with a fresh mint sprig, as desired.
Slice into wedges and serve with a scoop of strawberry ice cream.
Refrigerate any leftovers. Cake is best served the same day.