Easy Dinner Party Marinated Mushrooms
Derf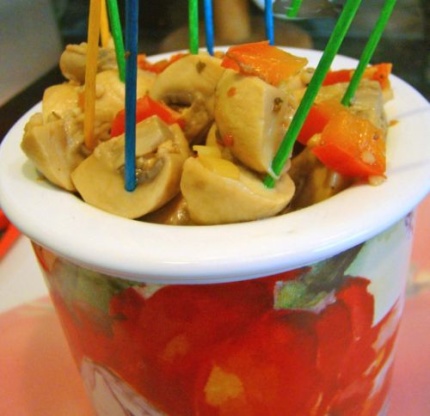 I don't cook in my microwave very often, but here's a good recipe for making tasty mushrooms for the buffet table or dinner party. Sometimes shortcuts really are helpful! :)
Made half the recipe and DH and I totally enjoyed it. Should have made the full amount! I followed the instructions completely and used fresh oregano and definately will make again. Thank you for posting. Made for Come to a Garden Party Recipe Tag game.
Combine wine, vinegar, sugar, garlic, green onion, red pepper and red pepper flakes in 8 cup microwaveable casserole.
Cover; microwave on high for 3 minutes or until mixture is simmering.
Add mushrooms.
Cover; microwave at high 6 minutes or until mushrooms are tender but not mushy.
Stir partway through cooking.
Stir in salt, oregano and pepper.
Let stand, covered, for 30 minutes.
Transfer to covered jar or container.
Refrigerate up to 1 week.
Note: how long to microwave ingredients can depend on the wattage of your machine. Lower powered machines might take a couple of minutes longer, higher will take about what is specified above.