Pismo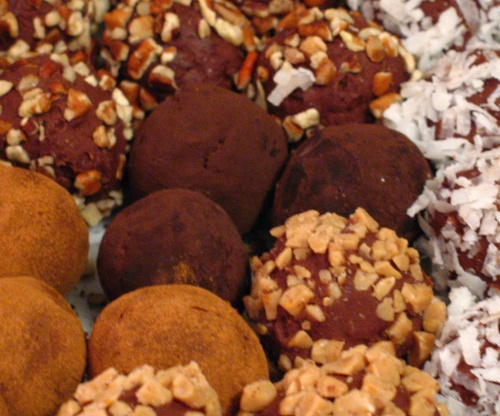 These are awesome and perfect for holiday gift giving. I've taken two batches into my newsroom and my staff has wiped them out. They are eas but very rich and delicious. Coconut flavored ones rolled in coconut and raspberry flavored ones rolled in cocoa are our favorites so far. I found the recipe in Albertson's new magazine — Easy.

These are so excellent that I cannot make them fast enough for my family, nor work. I roll them into balls and then immediately roll into chosen topping to be sure they coat and stick. Our fave toppings are nuts, sprinkles and drizzled in white chocolate.

I also tried an oreo truffle recipe from this site, but could not compare to the rich flavor of this recipe and so easy to make.
In a large bowl, beat cream cheese until smooth. Gradually beat in confectioners' sugar until well blended. Stir in melted chocolate and vanilla until no streaks remain. Refrigerate for about 1 hour. Shape into 1 inch balls.
Notes:.
Roll truffles in ground walnuts (or any ground nuts), cocoa, coconut, confectioners' sugar, candy sprinkles, etc.
To flavor truffles with liqueurs or other flavorings, omit vanilla. Divide truffle mixture into thirds. Add 1 tablespoon liqueur (almond, coffee, orange) to each mixture; mix well.