Chef Dee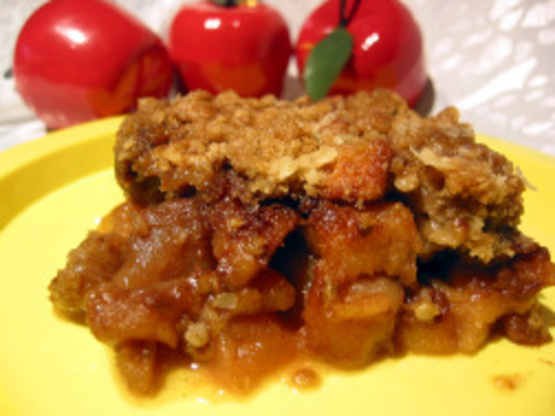 700 Five star reviews convinced me to try this dessert. I've tried many apple crisp recipes, and this will be the keeper. The apples are moist and the topping is crunchy, just the way it was meant to be. Found on allrecipes.

This is a good recipe. I used a larger pan, to spread the apples in a thinner layer. I think it would have been better if I'd left it as suggested. I'll try again sometime - thanks!
Spray an 8x8 pan with cooking spray, then place the sliced apples in the pan.
Mix the sugar, 2 teaspoons flour and cinnamon together, sprinkle over apples.
Pour the water over the apple mixture.
Combine the oats, remaining flour, brown sugar, baking powder and baking soda together.
Stir in the melted butter and crumble over the apples.
Bake at 350 for 40-45 minute
Serve warm with icecream or caramel sauce.