Easy Crock-Pot Pulled Pork Sandwiches
vrvrvr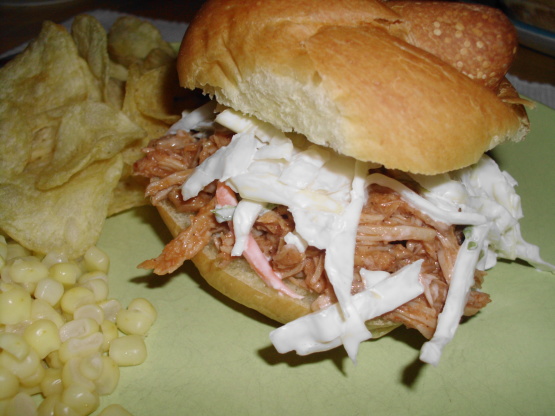 This recipe was originally cut out of the Dallas Morning News and has been used for years by my family! It's super easy and can be made ahead of time! Great recipe!!
Trim fat from roast. Cut roast, if necessary to fit into a 3 1/2 or 4 qt slow cooker. Season meat with salt and pepper.
In a small bowl combine 1/2 cup water, vinegar, Worcestershire sauce, and cumin. Pour over meat in cooker.
Cover and cook on low heat setting for 8 to 10 hours or on high heat setting 4 to 5 hours.
Remove meat and discard liquid.
Using 2 forks, shred meat and return it to cooker.
Stir in 3 1/2 cups BBQ Sauce. Cover and cook on high for 30-45 minutes or until heated through.
Serve meat mixture in split hamburger buns.