Easy Crock Pot Pork Roast
Vicki S.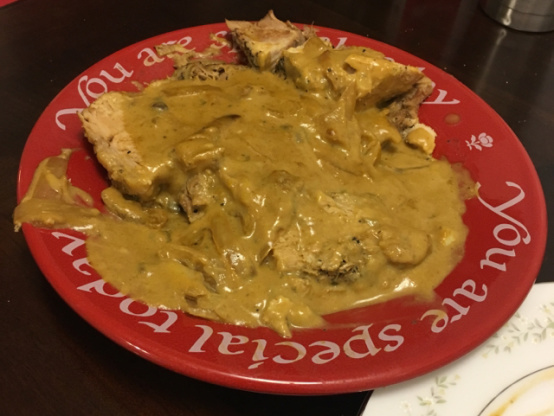 Great comfort food!! Just make some mashed potatoes and a vegetable and your set. Gravy is jammin!

Top Review by Bergy
Tamibic - really great recipe. I did a 4 lb pork loin that had been in the freezer for a while and I wanted to cook it. and then freeze some leftovers for future use. Perfect recipe followed it almost to the T. I didn't have A-1 Steak sauce so used Lea & Perrins BBQ sauce - great. I upped the onion a bit and added some fresh mushrooms, no salt (the recipe did not call for any) as the mushroom soup adds enough salt. I agree use fresh garlic. I find for some crock pot recipes dried garlic can give a slightly harsh taste. The recipe ends up a bit like pulled pork but so tasty & tender - great.- 2 hours before finishing the cooking time I added new 2 1/2" potatoes and baby new carrots - meal in one pot. Future uses for the wonderful leftovers include pork enchiladas, sloppy Joes, pork pie, etc etc etc and any recipe that you want pulled pork for. Thoroughly enjoyed this recipe - Please keep posting more! Thanks tamibic a keeper for sure
combine all ingredients in crock-pot and add roast, turn to coat.
Cook on low 8 hours or high 4 hours.