Easy Crock Pot Pork Chops
VickyJ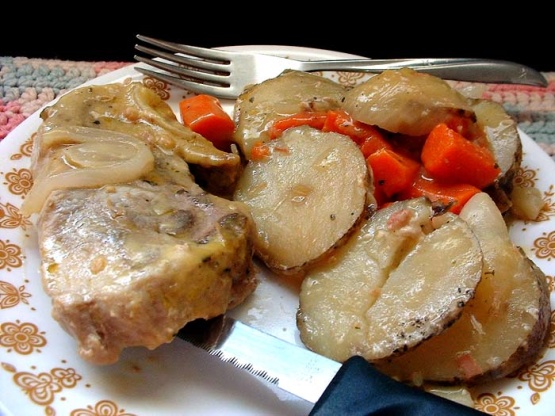 This is an easy dinner to make and let it simmer while you're at work, or you just want the kitchen to smell fabulous.
I 1/2 this recipe because it does seem to make a large amount. I put 1/2 onion. A half a bag of the baby carrots. 2 sliced and diced potatoes. 2cans of cream of chicken, i hate mushroom. And a packet of dry ranch. Its amazing!
Lightly spray slow cooker with butter or garlic flavored non-stick cooking spray.
Put onions and potatoes in bottom of slow cooker.
Top with pork chops, salt and pepper.
Pour soup over chops.
Cook on low for 6 to 8 hours, until tender.
Serves 4 to 6.