Easy Crock Pot Pork Chops
VickyJ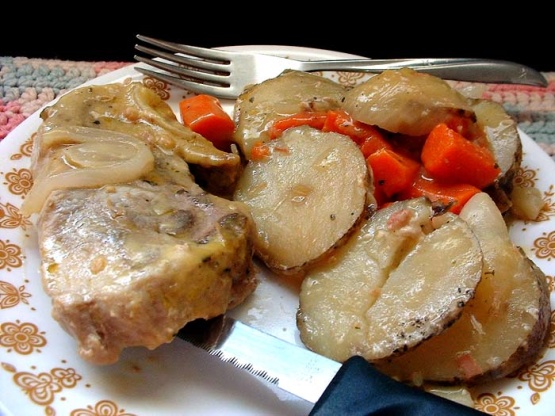 This is an easy dinner to make and let it simmer while you're at work, or you just want the kitchen to smell fabulous.
Uuummmm and so easy! I thick sliced my potatoes (1/2") on the bottom of a greased crock pot, on the stove I browned the chops well in bacon grease...yeah I know...layered them over the potatoes. Then in a separate bowl mixed 2 cans cream of chicken soup, 1/2 cup of milk and 2 Tbsp dry ranch dressing mix. On high4-5 hours ( I got a late start) Great flavor!!!
Lightly spray slow cooker with butter or garlic flavored non-stick cooking spray.
Put onions and potatoes in bottom of slow cooker.
Top with pork chops, salt and pepper.
Pour soup over chops.
Cook on low for 6 to 8 hours, until tender.
Serves 4 to 6.