Easy Crispy Taco Turnovers
Nimz1466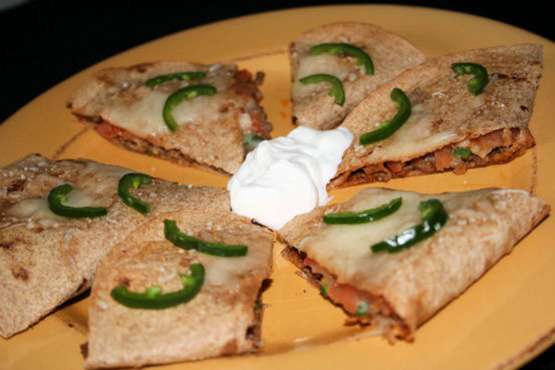 These are pretty easy, tasty and are a great appetizer or snack before the football games start, or you could even add beans/rice and Margaritas for a meal! For a more South-of-the-Border taste, add some diced Jalapeno peppers or green chilies before frying these. ;)

Did these in my George Forman grill instead of frying in oil and they still turned out crispy and delicious. I used leftover shredded beef instead of HB. This was a great idea for a change from the ususal mexican dishes I've made.
Brown together the ground beef or turkey, onion and garlic in a heavy frying pan over medium heat, until meat looses pinkness.
Add salt and chili powder to meat, mixing well.
Put 1/2 cup of the ground beef filling, 1/2 cup of cheese, and 1/2 cup of tomatoes onto one half of each tortilla adding your jalapeno/green chilies now if you want to use them.
Fold the other half of tortilla over and press to remove any air pockets.
Heat oil in pan to medium high, and when hot, place filled tortillas into the pan 1 or 2 at a time, size of pan permitting.
Saute over medium high heat until golden brown on each side, approximately 45 seconds per side.
Remove and place on paper towels to remove any excess oil.
Cut into wedges and serve!