Easy Crescent Sausage and Cheese Appetizers
lazyme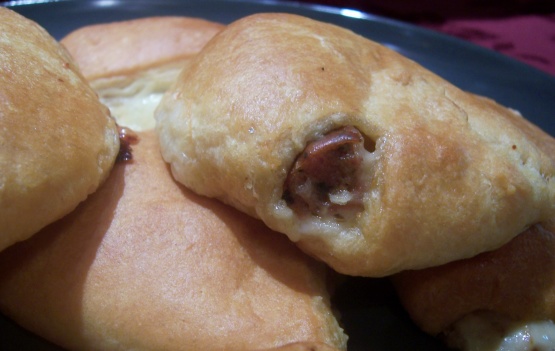 These are an adult version of "pigs in blankets" they are very easy to make and everyone just loves them! you can even prepare them a day ahead cover refrigerate and just pop in the oven when your ready to serve them --- you can substitute cheddar for Gruyere cheese if desired. I made these using honey Dijon mustard. This will make 16 crescent sausage appetizers, I most always double the complete recipe to 32 if I am serving these to a crowd.

Top Review by lazyme
What great little treats! I halved the recipe for just 2 of us and used a habanero and chicken sausage link (our tiny market didn't have anything else that I thought would work). My only suggestion for those who will try this with a sausage that has a casing is to dice the sausage because otherwise it can be harder to bite into - certainly not the recipe's fault - this was my change! Thanks for another great one Kitten.
2

(8 ounce) tubes refrigerated crescent dinner rolls

16

teaspoons honey mustard (or you can use a bit more)

16

tablespoons gruyere cheese or 16 tablespoons cheddar cheese, grated

4

small cooked sausages (quartered lenghwise)
Prepare a lage baking sheet and spray with non-stick cooking spray.
Unroll the crescent dough and separate on the perforations into individual triangles.
Spread about 1 teaspoon honey mustard (can use a little more) on each crescent.
Sprinkle about 1 tablespoon grated cheese on the mustard.
Arrange one sausage quarter on the triangle (parallel to short side, leaving 1/2-inch border).
Fold the SHORT side of the dough over the sausage, continue to roll up.
Arrange sausage rolls seam-side down on the prepared baking sheet.
At this point you can cover and refrigerate up to 1 day until ready to bake.
Set oven to 375 degrees.
Bake the crescents until the dough is golden, about 20 minutes.