Easy Creamy Sour Cream Chicken Casserole
SloppyJoe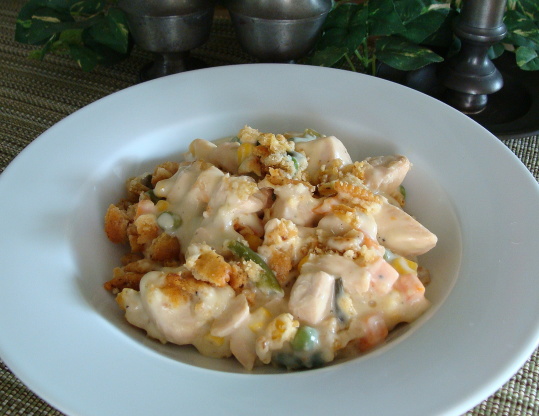 This is one of the first recipes I really "mastered" when I was learning how to cook. My husband got to enjoy this recipe at least twice a month because it was one of the few dishes I knew how to make. Now, that I'm a much better cook, we still have this delicious dinner on our menu at least monthly. It is so easy to put together and very good. If you like your casserole's creamy, then this is one you've gotta try! I hope you enjoy it as much as we do!

This was a decent recipe the first time I made it, but tweaking it really brought it to the next level. I'm giving it three stars because the original recipe was "good" and easy, and it's not fair to rate it after making a bunch of changes. Here's the suggestions hubby made that really helped:<br/><br/>Sauteed some chopped white onion in butter and combined it with herb stuffing to make a "crust" on the bottom of the pan. Salt, pepper and poultry seasoning on the cubed chicken, which I placed on top of the stuffing (raw, because boiling it is an extra, unnecessary step.) Added corn and green beans to the sour cream/soup mixture to give it some veggies and texture. Poured over the chicken and baked until bubbly. Added shredded sharp cheddar in the last few minutes. Let it sit for 10 minutes to thicken. YUM! <br/><br/>Really, it's a totally different recipe at this point I guess, but I would have never thought to make this without a good base. We really liked the sour cream in it! Thanks!
Preheat oven to 350°F.
Boil chicken breast until tender; drain and cube.
Spread evenly over the bottom of a square casserole dish.
Salt and pepper to taste.
Mix sour cream and chicken soup in a separate bowl.
Spread the sour cream and soup mixture over the chicken in the casserole dish.
Crush the Ritz crackers and spread over top of the casserole.
Spoon melted butter on top over all.
Bake in a 350°F oven until top is golden brown, approximately 20-30 minutes.