Easy Creamy Scalloped Potatoes (Cheese Optional)
ImPat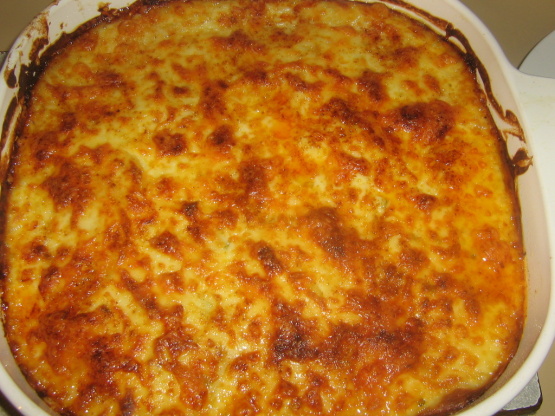 I grew up with the traditional 'layered potato and onion' version of scalloped potatoes. My husband doesn't care for onions, so I had to find another way to enjoy this dish. I'm not willing to give up the flavour you get by using onions, so I finely chop them before cooking. That way they disappear from site but not from taste. This has become our standard recipe that has received lots of compliments, and is always requested when the kids come to visit. Especially good with meatloaf. You can vary the taste by adding different spices. I've even added peas to the assembly. Also, feel free to increase the amount of cheese. NOTE: Your sauce will thicken much quicker if you use warmed milk. Microwave it for 1-1/2 minutes on High.

Excellent scalloped potatoes my entire family enjoyed. I made it exactly as written with one exception - I did not precook the potatoes. I felt they would cook just fine and did not want to risk them turning mushy. They were perfect. I made a covered deep casserole dish and cooked it for 35 minutes, then uncovered and broiled for 6 minutes to crisp the top. I DID use the cheese as well, although I completely forgot to add the chives. Next time for sure - and there WILL be a next time! Thank you for an excellent dish. *Made and Enjoyed for Aug Aussie Recipe Swap.*
Preheat oven to 350*. Spray a casserole dish with cooking spray. The size needed will depend on how large your potatoes are.
Peel and slice potatoes 1/4" thick. Gently boil until almost cooked. Set aside to drain. Avoid breaking slices.
In the same pot, melt butter on medium/high heat. Add onion and saute until tender but not brown. Sprinkle with flour and allow the flour to be absorbed by the hot butter. You may need to reduce the heat to avoid scorching.
Slowly add the warm milk, stirring constantly until the mixture thickens. Add salt, pepper, and the 1/2 cup of cheese, if using. Remove from heat and stir until the cheese has melted.
Pour a small amount of the sauce in the prepared casserole dish. Top with half of the potato slices. Add half of the remaining sauce, followed by the rest of the potatoes and then the last of the sauce. Sprinkle with the 1/4 cup cheese, if using, and sprinkle with chives.
Bake for 30 minutes or until cheese has melted and is turning a golden brown.