Easy Creamy Banana Pudding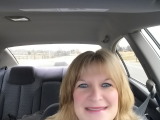 Yummy and creamy--tastes light but yet delicious.
Directions
Mix pudding as box directs.
Add to pudding the Cool Whip and sour cream; stir.
When pudding is mixed, layer pudding, vanilla wafers, bananas, pudding, vanilla wafers and bananas, etc.
Most Helpful
I too only used 2 small boxes of pudding. We ate it up in 2 days! My husband says it's the best banana pudding he's ever had. Light cool whip & light sour cream worked well. MMMMM, making it again today! Thanks!
This is my favorite Banana Pudding! And I couldn't believe how easy it was to make!!! More amazing is the fact that you can use fat free cool whip, low fat sour cream, and even sugar free instant pudding and it still comes out creamy and ahhh so delicious!!! I guess some may even get the low fat vanilla wafers, but they are too hard for my taste so I splurge and go ahead and get the regular vanilla wafers. I also crushe the vanilla wafers between the layers. I also only used one package of 5.1 ounce pudding mix. It still made plenty and was very delicious. Thanks for the recipe. Family Favorite for sure!
Tis is same recipe I use. Got it from my Mama. We use the smaller packages of pudding mix, but it's the same recipe. I fixed it for my mom-in-law and she likes to sprinkle nutmeg on the top. Whatever you prefer, it's the BEST Banana Pudding you will ever eat. Thanks Mealnie, for posting the delicious recipe for all!