Easy Cream of Potato Soup
Diana 2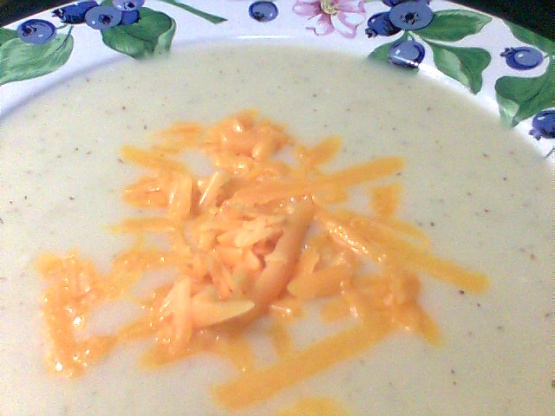 This is from the Better Homes & Gardens cookbook with just minimal changes. I live for potatoes and this is SERIOUS winter comfort food. I inhale this recipe so it probably would make more servings than 4 if someone else were serving it.

This Easy Cream of Potato Soup recipe was easy, yes -- but, also delicious. My DH is about to head to the kitchen for a third bowl. Third bowl?!! I had one and stopped. It's very filling -- oh and did I mention DELICIOUS?? OK, now to particulars. I really followed the recipe very closely, but I did add several chopped carrots, a few stalks of chopped celery. I also added a few cloves of minced garlic (I made a large batch; upped it to 12 servings). I sauteed the garlic, onion and celery briefly in a bit of the butter just until the onion was softened and the garlic was nicely cooked. I didn't have dill weed - next time will try that! -- but added rosemary, thyme, mixed herbs, and a couple bay leaves. Along with the milk I put in the roux, i added about a cup of single cream. I made the white sauce quite thick before I poured it in the pan of soup so that the whole thing became thickened. Oh - I did not blend the potatoes at all. We like it as is. Very easy and surprisingly easy to cook, once the chopping has been finished. I highly recommend this soup. Thank you, Twiggyann, for posting.
In a saucepan combine chicken broth, onion, potatoes and dill weed.
Bring to a boil. Reduce heat and simmer for 10-15 minutes or until potatoes are tender.
Put 2/3 of the mixture in a blender or food processor. Cover and blend until smooth. Set aside with the unprocessed mixture.
In the saucepan, melt the butter.
Stir in flour, salt and pepper. Add the milk all at once.
Cook and stir until mixture is thickened and bubbly.
Stir in the potato mixture and cook until soup is heated through.
NOTE: If you prefer a smoother soup, blend all of the potato mixture. Also try stirring in some grated cheese -- swiss and cheddar are great in this soup.