Easy Cream Cheese Fruit Squares
Micah C.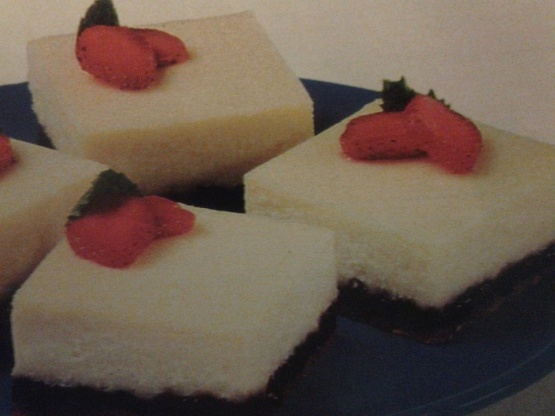 Well, the name of these yummy treats really sums it up! They are very easy to make and very fruity and cream cheesy. I will make this again for sure. My hubby LOVES cheesecake anything and these were a big hit. Thanks again, Ed!
Preheat oven to 325 F.
To prepare crust: In medium saucepan place 1/4 cup sugar and butter;heat until butter is melted, stirring occasionally.
Stir in graham cracker crumbs;press mixture evenly over the bottom of a 13 x 9-in.
baking pan.
In a large bowl with an electric mixer beat cream cheese until smooth.
Gradually beat in remaining 3/4 cup sugar.
Beat in eggs, one at a time, and vanilla, until well blended.
Spoon blueberry filling over crust. Carefully pour cream cheese mixture over blueberries.
Bake just until set, 45 to 50 minutes.
Cool.
Chill until cold, about 2 hours or longer.
Cut into 24 squares.
Serve garnished with strawberry halves or mint leaves, if desired.